We Review the Best Betting Sites in the UK for 2019 so You Don't Have To
It would not be an exaggeration to say that sports betting in the UK is something of a national pastime, with football betting being of particular interest to so many members of the UK male population over the age of 18.
If you go into any pub on a Saturday lunchtime, you will see lads of all ages studying the fixed odds coupons from their local bookie or studiously looking at a bookie app on their mobile phone, trying to finalise their selections for that afternoon's football matches from the best betting sites.
It used to be the case that placing a bet on whatever sports took your fancy had to take place within the confines of a betting shop, but with the advent of online betting, all of the top betting sites are desperate for your business, and that is obviously great news for punters, as they can take advantage of the many bonuses which are out there.
What Punters Need to Know When Choosing Trusted Betting Sites
As you will probably expect, though, in this highly competitive arena, there are steps that should be taken before signing up with one of the top online betting sites. You should only choose to open sportsbook accounts with bookies which
are fully licensed and regulated;
have a solid background in offering their customers the best possible service;
have first-class customer support in place;
offer an attractive welcome bonus as well as ongoing promotions.
With that in mind, let's take a quick look at what we consider to be the best online betting sites. We will also explain a little later exactly what we look for before recommending a sportsbook to our readers.
Let's Talk About Licensing
If you live in the UK, online sports betting is perfectly legal. Something that you should bear in mind is that if you are betting from another country, you may find that your sportsbook account will be blocked, and you will not be able to place any bets. However, the biggest betting sites are available in numerous countries, so if you have signed up with a brand that has global coverage like William Hill, the answer to your question "how to access UK betting sites from abroad" is simple – just log into your account. We advise that you contact customer care before travelling, though, because even if a bookie accepts customers from the country you're visiting, you may find that the number of markets has been reduced, and that some sections of the site are inaccessible when you log in from abroad.
Back in the UK, you will experience no problems at all, and the organisation which is responsible for making sure that any sportsbook which is open to UK residents is above board is the UK Gambling Commission. Checking that a bookie is licenced by the UK Gambling Commission should be the benchmark of the minimum requirements that you look for before even considering opening an account. It should be noted that a bookie displaying the commission's logo is not necessarily licenced, so a few more checks need to be made.
To begin with, click on the UK Gambling Commission logo, and make sure that you are directed to the public license register where you will be able to see if the sportsbook is actually registered. Then, check to make sure that the details on the license match the details which are listed in the register (the sportsbook activities and website domain name for example).
Don't worry if this all sounds a little complicated because we carry out these checks before we even start to review a sportsbook, so you don't have to!
What About Safety and Security?
Whilst being licenced by the UK Gambling Authority is important, there are also other factors to bear in mind when it comes to the safety and security of your betting account.
Encryption, for example, is an extremely important aspect of a sportsbook account because this is what keeps your data safe. We have all heard the absolute horror stories of what can happen when someone's personal data is stolen, so it goes without saying that you should be certain that proper encryption is in place.
Thawte is the name that you should be looking for when it comes to encryption, and the logos are displayed on the sportsbook but as with the UK Gambling Authority logo, always make sure that the sportsbook in question is actually associated with who they are claiming to be associated with by clicking on the link and checking.
It goes without saying that this is another aspect that we check for before even beginning to review a sportsbook, so every bookie that we recommend has the very best encryption in place.
What Happens If It Stops Being Fun?
Something which should be applauded regarding online betting is the bookie's attitude to responsible gambling. For the vast majority of punters, online betting is something that is enjoyable and hopefully profitable but for some, their gambling has become something of a problem and as the television advert quite clearly says, 'When the fun stops, Stop!'
It would be fair to say that some sportsbooks take a more helpful stance than others when it comes to helping people who are experiencing problems but how helpful they are can be a reliable indicator of how these betting operators treat their customers in general.
Some bookies think that merely displaying a link to an organisation such as Gamcare on their website shows that they are prepared to help, whereby other betting websites go to great lengths such as offering questionnaires so that punters can get an idea if they have a problem and by allowing customers to take a break from being able to log into their sportsbook account.
We look closely at the responsible gambling guidelines of every bookie which we review to make sure that they have the best interests of their customers at heart.
What About the Quality of the Site and User Experience?
Now that the boring bits regarding the reliability of a bookie are out of the way, it's time to take a closer look at the website itself in terms of quality and user experience. If you take a look at the most successful online bookmakers on the market at the moment, you will see that they all have one thing in common: the layout is simple, easy to navigate, and without distractions.
Back in the day when betting online was in its infancy, there seemed to be a trend in which the betting site was full of flashing lights and made up of garish colours. Now, thankfully, if you look at bookies such as Bet365 and Betfair, you will notice that the main colour scheme involves only two or three colours and the layout of the site is very simple, which in turn means that it is easy to navigate and find your bets.
It is usually possible to investigate exactly what the sportsbook looks like in terms of the markets that it offers before signing up for an account but on saying that, registration should be relatively straightforward, and you will be able to delve even deeper before you make a deposit if that is what you would prefer.
The Beautiful Betting Offers!
Most punters will be only too well aware that online bookies offer incentives in the form of welcome bonuses in order to try and persuade you to open an account with them and reload bonuses which are offered to tempt you to keep on placing bets with them.
The online gambling industry is highly competitive, and it would be fair to say that this greatly favours the punter because there are absolutely no restrictions as to how many accounts they can open with different betting operators.
As you would probably expect though, all of the come with terms and conditions attached to them, so it is of particular importance that you take the time to familiarise yourself with the small print. The two main terms and conditions are the wagering requirements and the minimum odds.
As an example, a bonus might stipulate that the qualifying bet has to be placed on a selection with minimum odds of evens (2.0) and that it has to be wagered three times. There are also sometimes terms and conditions which mean that some deposit methods do not count towards the free bet so as long as you take the time to understand these rules, you won't run into any problems.
More Promotions As You Come Back
Once your account is up and running, you will become aware of the many forms of reload bonuses which are available. You will find that these bonuses are sometimes combined with casino offers within the same sportsbook such as wager £10 on the casino and receive a free £5 accumulator bet.
Other betting offers and promotions include accumulator insurance bets whereby you will get a refund of your stake if one selection lets you down as well as various odds boost where the odds of a particular selection are increased for a short period of time.
The great thing about reload bonuses and promotions is that bookies are constantly looking at different deals which they can offer, and this is obviously great news for punters.
Reward programmes and VIP clubs are also in place with some sportsbooks, membership of the reward programmes is usually automatic whilst the VIP programmes are more often than not invite only. Both have their own attractions but don't be tempted to wager more than you otherwise would in an attempt to get to a higher level of the programme, instead, just regard any rewards that you receive as an added bonus.
Depositing and Cashing out Is a Piece of Cake!
It is in the bookies' best interest that they offer customers a wide range of options so that they can make deposits to and withdrawals from their account. Making a deposit into your account is just a case of adding the payment details and the amount which you would like to deposit, and the payment will instantly be made into your account.
The most popular payment methods are Visa/MasterCard, bank wire, web wallets such as Skrill, Neteller and Paypal, payments directly through apps on your mobile phone, and some bookies also accept cryptocurrencies such as Bitcoin and Ethereum. Bear in mind that most betting websites do not allow web wallet payments to qualify for their welcome bonus, but any future deposits with a web wallet is not a problem.
In the world of matched betting, most punters prefer to use Skrill as withdrawals are usually made back to their account within a matter of hours whereas most of the other methods can take up to five working days. The common consensus within the online gambling industry is that most bookies will accept cryptocurrencies in the not too distant future, so that is definitely something to keep an eye on.
Betting on the Move with Sports Betting Apps
The vast majority of betting websites in the UK now have a mobile app and due to the advancements in mobile technology, these apps are just as powerful as if you were betting from your laptop or desktop computer, and are still regarded as extremely safe betting sites.
The apps are available in both Android and IOS formats, and even those bookies who don't have an app have a responsive mobile version of their website which can be accessed from the mobile browser. You should also be aware that some betting websites have promotions which are directed at mobile users in an attempt to persuade them to use this method when placing their bets.
The Joys of In-Play Betting
Many betting companies now offer in-play betting and live streaming so it would be fair to say that this adds a completely new dimension to the betting activities for punters. The benefits of live betting over pre-match betting are numerous so as an example, let's say that you have placed a football bet with Paddy Power. Even though the team you have placed a bet on are winning 1-0, from watching the live stream it is becoming more and more apparent that the other team are on top and likely to equalise.
In the old days, you would have had to sit and nervously watch the match, hoping for the best, but with in-play betting, you can cash out and watch the rest of the match without worrying about the score.
The Betting Markets
The betting companies offer a huge range of markets for customers to bet on, and it wouldn't be an exaggeration to say that you probably haven't even heard of some of the markets that are on offer, eSports being a prime example. The most popular betting markets though are football, horse racing, tennis, and golf, with greyhound racing also popular with some of the more traditional secure betting sites such as William Hill.
The Most Popular Bets and the Odds That Accompany Them
The most popular types of bet on these secure betting sites basically depends on what kind of punter you are. The recreational punter will prefer combination and accumulator bets in the hope of receiving a large payout from a small stake whereas the more serious punters and matched bettors will concentrate on the simple win single bet.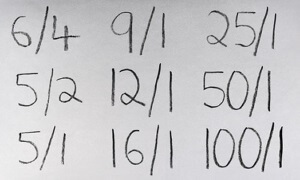 Something that you should perhaps bear in mind when placing bets at these secure betting sites is that if a bookie is advertising a type of bet, it will be because it is profitable to them as opposed to the punter. This is why you will often see stories of players who have won thousands of pounds off a £5 accumulator bet plastered over the press and social media; because it is an attempt by the bookies to persuade other punters to place the same kind of bets.
If you are wondering about the different types of odds which are available at the betting sites we review, in the UK the odds are usually in fractional or decimal formats, and you can choose which type of odds you prefer in the setting section of the sportsbook which you are using.
Advantages and Disadvantages of Betting Shops vs Betting Sites
If you have an interest in sports and have grown up in the UK, you will more than likely have placed bets in a betting shop. Betting shops in the UK have become something of an institution and depending where you live, there will be several different bookies on the same high street, but it is a sign of the times how much these bookies have changed.
A typical bookie would open at around 10am and close its doors around 30 minutes after the last horse race but bookies are now open from early in the morning until 10pm at night, and the reason for this are the fixed odds betting machines.
It could be argued that some bookies are now more like amusement arcades because if you take the time to read the big bookie annual reports, you will see that these machines make a great deal of profits for the bookmakers.
Many punters would still rather place bets at a betting shop as opposed to online and vice versa, but it wouldn't be an exaggeration to say that online betting is the medium that most younger punters prefer due the ability to place a bet without the need of having to go to a betting shop.
Something that is not widely known is that as well as a betting shop also offering various bonuses and promotions in order to tempt passers-by to walk into a shop, it is also possible to take advantage of arbitrage opportunities by taking advantage of fast moving markets. This is commonly known as sharbing (shop arbing), and it is where a bet is placed in the high street shop, and then laid off on a betting exchange in order to make a quick guaranteed profit.
Something else to remember is that unlike online betting, it is possible to take advantage of promotions more than once with the same bookie. For example, let's say that William Hill are offering a particular bonus on one of their horse racing markets, there is nothing stopping you from visiting a number of different William Hill shops in your vicinity and taking advantage. You could not do this with online accounts because if you tried, you would soon get found out and your accounts would be closed down as holding multiple accounts is something which is frowned upon.
It's All About the Rep!
As with most things in life, reputation counts for an awful lot, and that is exactly the same with online bookies. The old stalwarts in the game such as Ladbrokes and William Hill have been in the bookmaking business for over one hundred years, but there are new betting sites which are coming onto the market who are shaking things up a little, to say the least.
To be honest, though, it would be a sad state of affairs if these older bookies were not challenged in any way and left to rule the roost so these new safe betting sites should be applauded.
As long as these new bookies meet all of the licensing requirements and offer a safe and secure betting environment, they will be worth investigating and don't worry, if these new bookies meet out strict requirements, you will be first to know if you should open an account with them or not.
What About Customer Care?
We have already mentioned how important a sportsbook customer support is, and there are usually several different options available for the customers of a bookie to get in touch. In an attempt to take the load of their support staff, some betting sites will prompt you to work out the answers to any problems yourself.
There will be a list of FAQ's which could include the answer that you are looking for, but you shouldn't really have to go through that, if you have a problem, get onto live chat straight away and get it sorted out.
The usual contact methods are email, telephone, and live chat. Email is not really recommended, as it can take ages for the support desk to get back to you, telephone is OK, but you don't really have a record of what has been said so the favourable option would have to be live chat.
Most customer care departments won't leave you waiting for more than a few minutes so you should be able to get the answer to any problems and you will have a record of what has been said should there be any more problems further on down the line.
Innovative Changes to the World of Online Betting
If you had a time machine and went back ten years, there are certain aspects to the online betting world which would be almost unrecognisable. Live betting, for instance, has come on leaps and bounds, and the bookies have algorithms in place which mean that a large number of in-play markets can now be offered.
The volume of bets on betting exchanges such as Betfair have gone through the roof and live streaming is now of an extremely high standard. Who would have thought that you could place bets on eSports and that there would be an enormous demand for this type of betting?
Let Us Help You
The world of online betting with the top betting websites can be exactly what you want it to be. If you enjoy placing an acca on a Saturday afternoon to add some interest to the games which are being played, you will find that many of the sportsbooks such as Paddy Power will offer incentives so that you place your bets with them.
It could be that your interest lies in horse racing in which case betting companies like William Hill will offer you incentives to place your horse racing bets with them. It may be that you have discovered the highly lucrative world of matched betting where you take advantage of the huge number of bonuses which are made available by the best online betting sites.
It really doesn't matter which camp you fall into, opening accounts at the best betting sites will enable you to get involved and take advantage of the many offers that are out there.
Due to our extensive research, we are able to present you with the best of the best so that you don't have to worry about whether your personal details and your funds will be safe, leaving you to get on with the job in hand which is to make money off the old enemy, because after all, that is what it is all about, isn't it?