Let's Talk Staking Plans for Betting
So many punters get confused when staking plans for betting is ever mentioned which is such a shame because they are very simple to put in place and can make a big difference to your betting profits over the course of a financial year.
All a staking plan really is, is a set system so that you know exactly what kind of bets you are going to be making in terms of the size of the bet.
Compare this with just going into a betting shop and betting with the money that is in your pocket or deciding how much your online bet will be by just using what is in your bank account.
There is one big difference between successful bettors and those that continually lose money, and that is the successful bettors conduct their betting business in a professional manner.
They record every bet that they place, whether that is a winning bet or a losing bet, they have a dedicated betting bank which they use solely for betting purposes and more often than not, they use a system which will determine which bets they make.
The Betting Bank
Let's start by looking at the betting bank and why it should be your number one priority.
You don't have to open a separate bank account for this, it could be a sum of money that you place in your Skrill account, or if you are more interested in doing business in betting shops in the high street, it could be a sum of cash that you have put to one side but which you don't use for anything apart from betting purposes.
This will lay the foundations moving forward and to begin with, it is advisable that you put any winnings straight back into your betting bank instead of spending it straight away.
The System
Instead of placing bets willy-nilly, it is a good idea to concentrate on one method when it comes to placing bets.
It could be that you follow a certain tipster or it could be that you use your football knowledge to place bets on football matches that are being played in a lower league such as the National League North.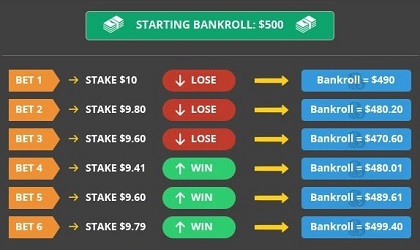 It doesn't really matter which betting market you choose but stick to it.
Compare this with betting on everything under the sun.
If you live in the UK and have spent some time in a betting shop you will see punters who are placing a bet on every horse race as well as having an interest in the dog racing, not to mention, God Forbid, the virtual reality racing which takes place every few minutes.
It is these punters who keep the bookies in business, so you want to make sure that you definitely don't fall into that category.
Staking Plans for Betting, Now We're Talking
If you combine a quality staking plan with a good selection system, your betting results will be revolutionised, no doubt about it.
With that in mind, the betting staking plan described below is probably the best that there is.
Let's assume that you have £1000 in your betting bank and your selection system concentrates on favourites in the horse racing markets of between the odds of 2/1 and 3/1.
Each bet that you place should be 5% of your betting bank, so your first bet will be £50 and let's say that it wins at odds of 2/1.
This means that your betting bank will now stand at £1100 so your next bet will be 5% of that figure which will be £55.
As you can see, as your bank grows, your bets will bet bigger, and you will see that it only takes a few successful bets for your banks to grow very quickly.
If your bank grows to £5000, your bets will be £250 per selection.
Thinking ahead, it would be a good idea when your bank grows to a certain level to just use it to provide an income as opposed to placing very large bets.
*New customer offer. Place a min £5 bet on the Sportsbook on odds of min 1/2 (1.5), get £20 in Free Bets. Rewards valid for 30 days. SMS verification required. Only deposits via cards will qualify. T&Cs apply. Please Gamble Responsibly. #AD
In theory, it may sound good placing bets of £1000, but that figure will probably be way out of your comforts zone, and you would have to place the bets at a betting exchange because you would probably be limited by any sportsbook that you chose to place these bets.
At the other end of the spectrum, staking plans for betting such as this one also offers a form of protection because if you start to experience a losing run, the size of your bets will decrease.
Let's say that your betting bank has gone down to £500, the size of your next bet would be £25 instead of the £50 you started out with, and as you can see, if your bank decreased even further, your bets would get smaller.
Not All Staking Plans for Betting Are What They Seem
Don't fall into the trap of thinking that all staking plans for betting are good because there is one in particular which is so bad and so misleading, that you should run a mile from anyone who mentions it to you because you WILL end up losing a lot of money.
This system is called the Martingale system, and even though it was designed for betting on roulette, many unsuspecting punters have fallen for it and tried to adapt it to the sports betting markets.
The way it works is as follows.
Let's say that there is a system where when a team in the top six of the Premier League plays a team in the bottom six, you place a bet on the top six team to win.
For arguments sake, we will also say that the odds in matches like these will be even money (they will usually be a lot shorter than this).
The aim of the system is to win £50, so you place your first bet of £50 with the aim of winning £50.
If the bet wins, great, you have made your £50 and have finished for the day.
If it loses, you wait for the next system bet to come along and place a bet on the selection with the aim of winning the £50 that you have just lost as well as another £50 which will be your profit.
So, you place a bet of £100, and if it wins, you will have won £100, £50 for the loss and £50 profit.
However, if the bet loses, your next bet will have to make your desired profit of £50 along with the £150 you have lost on the previous two bets.
Can you see where we are going here?
All it takes is for a few of these bets to lose, and you will be staking over £1000 just to make that initial £50 profit.
It really is a staking plan from hell, but it continues to attract unwary punters like the plague who will probably end up losing lots of money and be put off from having a bet ever again.
Treat Yourself with Your Staking Plans for Betting Profits
It is important to treat yourself and your family from time to time and use some of the profits from your betting bank.
It is so easy to get caught up in it all, but if you say to yourself that you will take a couple of hundred pounds from the bank when you hit £1000 profit to take the family out for a meal or to treat the wife to a new dress, it will make everything seem to be more worthwhile.
If your partner, if you have one, can see what you are doing it will get them on your side which will be a massive help as opposed to them getting more and more angry by the time that you spend researching and placing your bets.
Hopefully, you can see by now that there are massive advantages in using a betting bank, a sold selection system and quality staking plan like the one we have just spoken about.
If you can also get out of the habit of just having a bet for betting sake, you will no doubt see a marked upturn in your betting profits and don't forget, there is absolutely nothing wrong with having separate betting plans in place which are being used for different betting systems at the same time.
This will take a little more organisation but will pay dividends over the long term, and if you took the time to ask every successful bettor how they conduct their business, the vast majority will tell you that they use a betting bank and operate it in the way that we have described, staking plans for betting really do make a big difference, just try it yourself and see how you get on.
Read More Detailed Betting Guides: