The Blog Section – Get the Scoop on All Things Sports Betting
We proudly welcome you to our Blog section! The pages here are meticulously crafted to provide you with the smartest Sportsbook Tips, and the latest news in the world of sports. Whether you would like to improve your betting strategy or learn more on the current status of the Premier League, you will find it all here. Our Blog section is regularly updated, so make sure you stay in touch!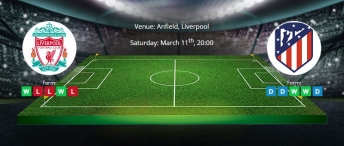 Liverpool will host the second leg of this Champions League Round of 16 tie having lost the opening leg 1-0 at Atletico Madrid. It will be a difficult task for...
read more
With both teams qualifying for the FA Cup quarter-finals ahead of this Manchester Derby, attention now switches to collecting Premier League points for United and City. For hosts Manchester United,...
read more
Although Bayern Munich are three points clear of RB Leipzig in the German Bundesliga prior to the weekend fixtures, third and fourth-placed team Borussia Monchengladbach and Borussia Dortmund are just...
read more
Amid the closest battle for the Serie A title in many years, current league leaders Juventus clash with third-placed Inter Milan with just six points separating the two teams with...
read more
Ahead of this latest El Clasico, both Barcelona and Real Madrid experienced difficult games in midweek Champions League action with Barca drawing at Napoli and Real suffering a 2-1 home...
read more
Jose Mourinho returns to Stamford Bridge, where he won three Premier League titles as manager of Chelsea, but as boss of Tottenham, he faces the task of motivating a team...
read more