Hedge Betting – A Superb Tool in Gamblers Toolbox
When hedge betting is used properly, it can be very useful and will enable a punter to lock in a winning bet or reduce losses in a losing bet.
There are different hedging bets sports methods which can be used, and we will talk about these later, but before we continue, you should realise that hedging a bet in order to reduce losses can be one of the most difficult decisions to make both in sports betting and in financial trading.
The reason for this is because as soon as you hedge your bets to reduce a loss, you have to accept a loss and most punters will admit that this is the last thing that they want to do.
It's all very well hedging for a win because you will be locking in a profit but hedge betting to limit a loss is a different matter entirely.
Making the decision to hedge your bets is very much a mindset thing, but once you master it, you will find that your betting bank will thank you for it.
Different Types of Hedge Betting and How to Calculate a Hedge Bet
Back in the days before online gambling, hedging your bets was something that only the high street bookies and the big-time punters could get involved with, but now it is something that any punter can take advantage of.
Learning to hedge your bets will drastically swing the odds in your favour when it comes to making a long-term profit, so the first method we will look at is hedging bets sport with a betting exchange, and the best way to look at this is by giving an example.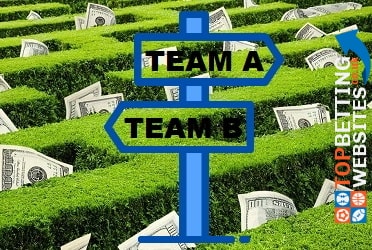 Let's say that Queens Park Rangers are playing away at Birmingham City and even though Birmingham are sitting just outside of the top six in the league table and QPR are fourth from bottom, QPR have won their last four games convincingly and Birmingham are in freefall having been sitting at the top of the table since the beginning of the season.
A couple of Birmingham's most influential players have failed late fitness tests, so you believe that the odds of 5/1 on QPR to win the match offers excellent value, so you decide to jump in at those odds with your maximum bet of £100.
Your initial instinct proves to be correct, and QPR are winning the game 2 – 0 at half time.
On watching the game though, Birmingham have shown why they are sitting so high in the table and have had several great chances to score themselves.
Lock in a Profit
On looking at the betting exchange, you see that the odds to lay QPR are 1.8 so this is where the decision has to be made on whether to let the bet run and hope that QPR can hold onto the lead or to hedge your bets and lay QPR to win and to lock in a profit.
Don't forget that should Birmingham pull a goal, the odds to lay QPR will shoot up and initial value would be lost.
If you don't lay the bet and instead, let the bet run, you would be looking at a profit of £500 if QPR held on to win the match whilst if they ended up drawing or losing the match, you would end up with nothing.
| | Bets | Stake | Odds |
| --- | --- | --- | --- |
| Pre-match wager | Back QPR | £100.00 | 6.0 |
| Half Time wager | Lay QPR | £333.33 | 1.8 |
| | Profit if QPR wins | Profit if QPR doesn't win |
| --- | --- | --- |
| Pre-match wager | £500.00 | -£100.00 |
| Half Time wager | -£266.66 | £333.33 |
| Combined wagers | £233.34 | £233.33 |
Limit Your Losses
Ok, let's look at if you decided to hedge your bets if the bet went against you and you needed to limit your losses.
You have left the bet open, but early in the second half, Birmingham amazingly score two quick goals, and as you would probably expect, this turns the game completely on its head.
As it now stands, you are now looking at a losing bet and a £100 loss so it might be a good idea to look at the price to lay QPR in order to see if you can limit your losses.
The lay price has shot out to 7.8 so if you laid QPR for £76.92 which will reduce the £100 loss if you let the bet run and it lost, to a loss of £23.08.
| | Bets | Stake | Odds |
| --- | --- | --- | --- |
| Pre-match wager | Back QPR | £100.00 | 6.0 |
| 2nd Half wager | Lay QPR | £76.92 | 7.8 |
| | Loss if QPR wins | Loss if QPR doesn't win |
| --- | --- | --- |
| Pre-match wager | £500.00 | -£100.00 |
| 2nd Half wager | -£523.06 | £76.92 |
| Combined wagers | -£23.06 | -£23.08 |
There is lots to consider and whether or not to lay the bet off to limit the loss is entirely up to you and don't forget that you could lay the bet to reduce the loss, and the QPR could quite easily go on and win the game.
That is an example of the beauty of gambling and what is known as the 'glorious uncertainty' but hedging your bets is certainly an option that is open to you.
Hedge Betting with a Sportsbook
Another example of to calculate a hedge bet is if your initial bet is a lay bet on a particular selection.
*New Customers only. Registration required. Bet £10* & Get £30* in Free Bets. Sign up, deposit between £5* and £10* to your account and bet365 will give you three times that value in Free Bets when you place qualifying bets to the same value and they are settled. Free Bets are paid as Bet Credits. Min odds/bet and payment method exclusions apply. Returns exclude Bet Credits stake. T&Cs, time limits & exclusions apply. #AD
Using the Birmingham City v Queens Park Rangers match from earlier, let's say that you had decided to lay Birmingham before the match starts for the reasons which we spoke about earlier.
If you wanted to hedge your bets on this match you could either back or lay on the exchange or if you wanted to place a back bet to hedge your bets, if the odds are right, you could back the selection with a sportsbook with the added benefit of not having to pay any commission.
Should You Get Involved with Hedge Betting
You should always make yourself familiar with different methods which can either improve or limit your betting losses so hedging bets in sports betting is something that you would be silly to ignore.
It should be noted that using a betting bank to place your bets will make hedging bets to be so much easier, but something which would be advisable would be to make a mental note before the game starts regarding what you will do in certain situations.
For instance, at what points in a match you will either lock in profits with hedge betting, limit a loss or whether to simply let the bet run.
This article basically covers the hedge your bets meaning and as you can see, it is not at all difficult to calculate, but it is difficult when it comes to deciding if you are going to hedge your bets or not.
Read More Detailed Betting Guides: